How the Free ATS Resume Checker Helps You Achieve That Dream Job
Resumes speak volumes about your work capabilities and concentration level. Most times, your potential employers have nothing to go on except for the information provided in your resume. Which is why you need to capture their attention and make a great first impression with a well-written resume.
ATS resume checker helps thousands of job seekers with this vital job requirement before they email in their resumes or CVs.
Cope and paste your resume for free and let the AI software go to work scrutinizing your file for possible mistakes. It finds out issues contained in your resume that lead to poor professional ratings. The software operates based on data top company's ATS software targets during a job hiring process. After which, a reviewed document of your resume would be your provided within seconds. The service increases your chances of getting called up for an interview in a top firm.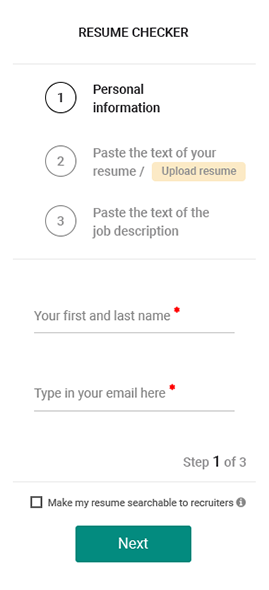 The Value of ATS Resume Checker in Our Modern World
In recent times, advancement in technology has paved the way for humans to meet their goals faster and efficiently. We now find ourselves in an era where a task that ordinary would take hours to complete, we carry out within seconds. Take the situation with top business companies, whose recruiters now employ the use of applicant tracking systems to scrutinize resumes of candidates within seconds. Selected candidates whose resumes match the requirements of the ATS algorithm or score high values, move on to the next phase of the hiring process.
Our ATS resume checker provides you with front row experience of how your resume stacks up when tabled to a top company. The checker scans your resume, taking into account grammar, structure, and word count. The checker also doubles up as a resume grader. After the resume review, the software provides you with a score rating and information on how to improve your resume and land an interview.
Also, carry out LinkedIn profile editing in a similar way. You can optimize your resumes and CVs to get your career on the fast lane to success. A top company requires you to send in an email with your resume as opposed to writing a letter. Companies now opt for either the DOC or DOCX format.
Testimonials
Below are real-life accounts of ATS resume checker by users.
I highly recommend resume writers from this professional service as their resumes are in line with the current trends. You don\u2019t want your hiring manager to toss your resume in the bin before even reading your name. This resume writing services has made my resume appealing and up-to-date.
James Porter,
This resume writing service has an upper hand in acquiring tips on current hiring methods and what employers are looking for in certain professions. Therefore, having a professional writer polish your resume might give you a seat at the interview table.
Gabriel Barton,
Their expert resume writers know the specific and essential points to highlight in your resume. They can optimize and compress your entire career using a few words and enhance readability hence increasing your chances of being called for an interview. Thanks, I got hired!
Alice D. McCoy,
How Our ATS Resume Checker Provides You with Professionally Written Resumes
To help create a professional resume, the resume scanner will make the following checks to your file and give feedback in little or no time.
Our Free Resume Checker Scans Your Resume
The checker examines your resume for the mistakes in the following factors.
Grammar
Pronouns and verbs usage
Proper Structure
Style of writing
Number of words
Keywords optimization
Passive voice misuse
Guide on Using the ATS Resume Checker
Get your resume file in any possible text format.
Copy the text of your resume and paste it unto checker window.
Search through your file by selecting the scan option.
Wait for a few seconds while the resume scanner works at providing an evaluation.
Afterward, the online software displays your score and highlights faults discovered.
Edit your resume in real-time to build the best possible work portfolio for conquering the labor market.
Provide the Following Information on Your Resume
Apart from refraining from the use of buzzwords, your resume should cover qualities which you require for the job description. These help in increasing the appeal of candidates with recruiters. These include:
Level of education and experience.
State your accomplishments.
Provide information about your drive or motivation to become a hardworking and competent employee.
Include references, etc.
Most job opportunities aren't reserved for an individual. Securing jobs in recent years is as hard as it gets. Which is why you need every help you can get to landing that dream job. These steps will make sure you build a resume which captures the attention of recruiters at first glance.
Also, professional writing services provide you with the opportunity to hire competent writers in writing a resume from scratch. The service addresses all rights to the write-up to you, so you are in safe hands.